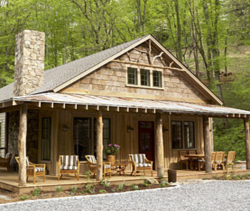 Southern Living Home Giveaway
Whisper Mountain is proud to be the winner of the 2009 Southern Living Choose Your Home Giveaway. This charming Southern Living giveaway home, Whisper Creek Cabin, is 1550 square feet with 2 bedrooms and 2 1/2 baths. Sitting on Whisper Creek, this cozy home has mountain views and easy access to parks and trails. Click here to view plans.
Whisper Mountain is proud to have Haven Homes and Jade Mountain Builders as our green builders of another NC HealthyBuilt and Energy Star certified home.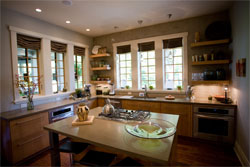 Southern Living Idea House
Whisper Mountain is the home of Southern Living's 2008 "green" Idea House. Southern Living homes feature the finest in Southern architecture, interior design, and landscaping. Each home reflects the charm and character of the region where it is built, and showcases smart ideas and decorating concepts.
The 2008 Southern Living "green" Idea House, which has a gold LEED certification, had 6500 visitors this summer and fall, raising more than $12,000 for Asheville's Mission Children's Hospital. The 3 bedroom, 3 1/2 bath Idea House is now available for purchase. The home has a separate "barn" which houses a two car garage and, when finished, a guest suite on the first and second levels complete with living, dining, kitchen, bedroom, full bath and a third floor sleeping loft. The Idea House has two main levels with the master bedroom on the first floor, two bedrooms with full baths on the second floor and a third floor loft, in addition to the living, dining, kitchen, and porch on the first floor. The home's green technology systems are housed on the ground floor and will be open for interpretive tours. 
The Southern Living Idea House is the first of its kind to adhere to a green agenda in all aspects of construction. Some of the home's eco-friendlyfeatures include solar panels, and a rain water catchment system.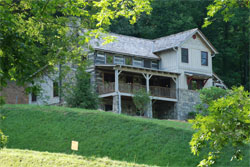 Poplar Ridge
At the heart of Poplar Ridge, is a Kentucky homestead structure that was built in the 1880's. The three story home is approximately 2,600 square feet with 4 bedrooms and 4 ½ baths, including a separate guest suite on the ground floor. It features exposed hand hewn logs, wide-plank oak floors, native stone and handcrafted details. Listen to Old Settler's Creek and enjoy thirty mile views of Mt. Mitchell from this charming mountain home. This perfect home design using heritage materials was first constructed in 2005 in West Virginia by Antiques Cabins and Barns, and was awarded Best in Show from the WV Builder's Association. Poplar Ridge is a NC HealthyBuilt Home with a 5-Star "ENERGY STAR" rating. Poplar Ridge was purchased by Hank and LuAnn Adams, who as full time residents are enjoying the joys of mountain living at Whisper Mountain.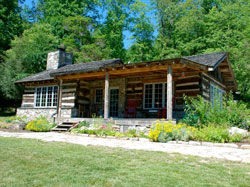 Historic Homestead Cabin
The first building that greets you when you enter Whisper Mountain, sits on the bank of Whisper Creek. This hand hewn log structure was moved to its present location decades ago and was originally part of the Little Sandy Methodist Church. The fully restored cabin has long range mountain and valley views and is built with heritage wood harvested from an old barn at Whisper Mountain. The Homestead Cabin sits on 1 acre adjacent to Old Settler's park and the Whisper Creek hiking trail. It is a charming example of adaptive re-use and restoration…one of the design themes employed in our overall design and construction philosophy. The Homestead Cabin has a full bedroom, large bathroom with antique claw foot tub, a new kitchen addition and a very large great room for living and dining with vaulted and beamed ceilings. This charming and historic log home was purchased by Bob and Wanda Wertzberger of Atlanta, Georgia.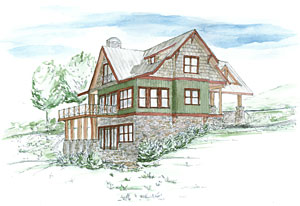 Longview House
The Longview House is named for the magnificent 30+ mile, long-range mountain views of Mt. Mitchell, as well as the Black Mountains to the east and the Newfound Mountains to the south. The home is designed by Allison Ramsey Architects, also the architect for the Southern Living Green Idea House at Whisper Mountain, and it overlooks 30 acres of dedicated parkland. The home is located on Homesite 70, is approximately 2,900 square feet and has 4 bedrooms, 3.5 baths with the master on the first floor and long range mountain views from every room.