"We have put a great deal of thought into planning these homesite locations, taking environmental integrity, aesthetic value, comfort and convenience into full consideration at every stage of development. Each homesite is unique in its own way, as are the families that will make this place their home.
All home sites have been carefully selected to create a special place. Some home sites provide ultimate privacy, while others showcase stunning views. Whether you are looking for the most sensitive habitat or the sounds of a tumbling stream, you will find it all at Whisper Mountain."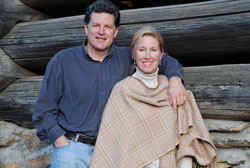 Charlie Ball of Ball Properties has 25 years in residential, retail and commercial development. He worked for Trammell Crow Company and Dell, Inc. in Austin, Texas. Charlie's wife Troy has been a licensed real estate agent and broker in Texas since 1987, working primarily in residential and estate product markets. Together, the Balls developed low density residential properties in the Austin area, incorporating conservation easements into their designs. Charlie has served on the Nature Conservancy of Montana Board while Troy has served on the Nature Conservancy Advisory Board in Austin. Troy currently serves on the advisory board of The Huntsman Marine Science Center in St. Andrew's, New Brunswick. She is a lifetime equestrian and races endurance horses in Western North Carolina, as well as nationally. Troy has recently joined the Board of the Western Executive Residence of the Governor. The western residence of the Governor is located in Asheville, North Carolina and is available to non-profit organizations for meetings and events. Governor Bev Perdue frequently stays at the residence when she is in western North Carolina.
Charlie and Troy's dedication to environmental awareness is reflected in their green building practices at Whisper Mountain. Charlie and Troy actively support the work of both the Southern Appalachian Highlands Conservancy, the Conservation Trust of North Carolina and the Southeast Regional Land Conservancy. Proceeds from tours of the Southern Living Giveaway Cottage benefited the Southern Appalachian Highlands Conservancy and Whisper Mountain recently donated an easement to the Southeast Regional Land Conservancy. Charlie and Troy, together with their friends and family, have protected over 650 acres of the Southern Highlands since 2008. Troy founded Asheville Distilling Company in 2010, making fine American Moonshine Whiskey.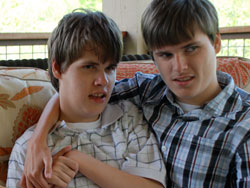 The couple helped found Thoughtful House, Center for Children, an organization dedicated to the recovery of children with developmental disorders, and serve as executive board members. The Balls also helped their son Marshall (bottom photo, left), who is non-verbal and in a wheelchair, publish two inspirational books for which he was recognized on Oprah, CNN and in People magazine. Marshall's first book was a bestseller and he was inducted into the Kid's Hall of Fame in 2005. Charlie has been personally involved in the design of all aspects of Whisper Mountain including Sky Valley Lodge and will continue to contribute his expertise to this unique project. Charlie and Troy live in Asheville with their three sons, Coulton, Luke and Marshall.
Guided by our philosophy we seek to enhance the singular characteristics presented in each property that are as particular to it as a fingerprint.